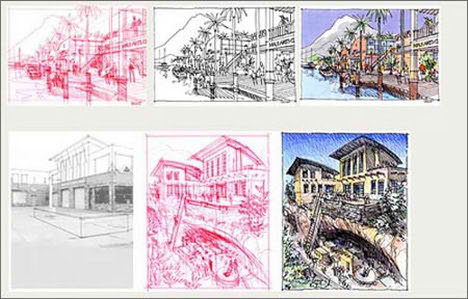 Check the Jim Leggit's Drawing Workshops website, I didn't knew such workshop exist – learning how to sketch. From what I read, it is for people that are weak in sketches and colouring, sounds like a great workshop, and like all great things. It is only available in America.
I never learn these kind of sketching technique during my college (Limkokwing University-College) years, anyway I don't expect much from such a small college with third world facilities, not even close to third world facilities – it is no facilities.
I do know a program call Piranesi that claim to be able to emulate and gives the user a freehand feeling – slightly better than sketchup. I've tried it and don't find it user friendly at all, the user interface has this classic windows95 buttons and looks.
Back to Jim Leggit's Drawing Workshops topic, now is there any similar workshop around South East Asia that I can join? I'm eying Thailand and Singapore.