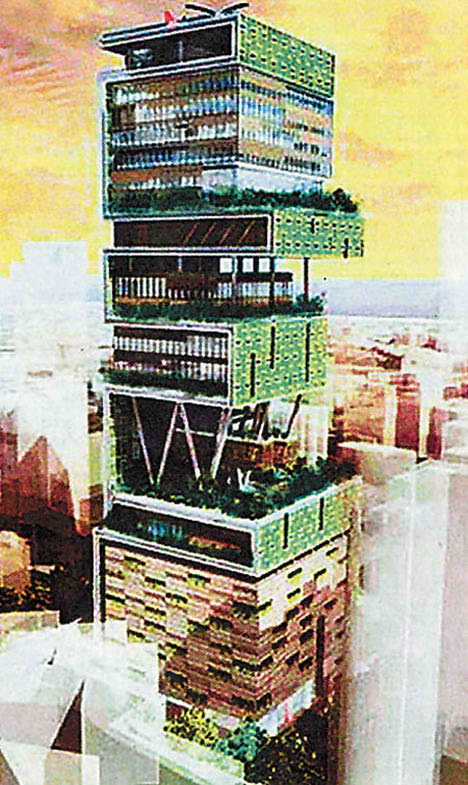 I've seen that image weeks ago, not quite sure where I saw only when I visit archidose did I realize that I am missing the bigger picture, apparently this tower is more than a tower, according to source this 60-storey house is for just one family, well, technically speaking it is because India's richest man, Mukesh Ambani is going to fund this project with his own personal company's money.
Okay, here are the facts that I gathered:
– 27 floors with an equevilent of 60 storeyed residence at 173.12 meters.
– 6 floors for parking, Mukesh's family has 168 imported cars.
– Facilities for athletics and a swimming pool, and a health club.
– Helipad at rooftop
It is not really a house, I think most of the top floors will be occupied by the family members, the ground floor definately will be allocated for his business and possibly those above the ground floor will be offices and some residential apartments for his nearly 600 staffers that are expected to work in the building, e.g. security personal.
Mukesh Ambani is 14th in Forbes' 2007 worldwide rankings with a net worth of US$20.1 billion. The building, already worth £500 million, could start a rush on skyscrapers, which is a very good sign for India, it is about time the rich people in India stop migrating and abandon their country, england is not home! With great powers and wealth comes great responsibility.
Further readings:
Dream Home Of India's Richest Man
A house for Mr Ambani