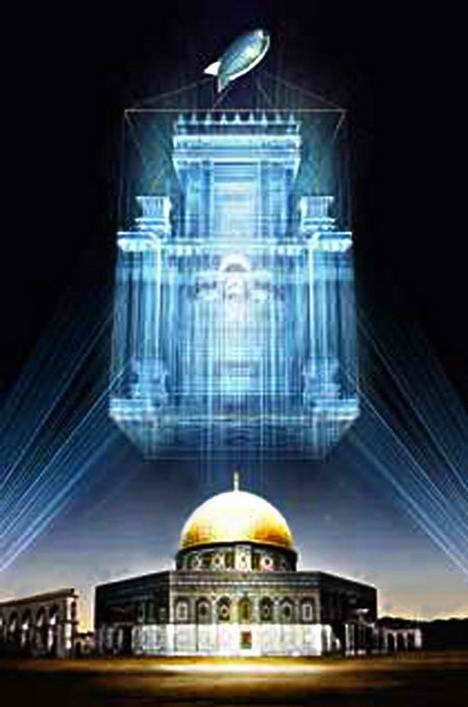 Yitzhaq Hayutman is showing the world how he wants to position an airborne hologram over the Dome of the Rock, a gold-capped shrine that's one of the most holy sites in the Islamic world. He has two big ideas, two ways to engineer the apocalypse. The first: require hovering a holographic temple by setting up an array of high-powered, water-cooled lasers and fire them into a transparent cube suspended beneath a blimp.
The future Temple which we are expecting, is built and perfected and will be revealed and descend from heaven.
– Talmudic scholar Rashi, 11th century

The ephemeral, flickering image, he says, would fulfill an ancient, widely revered Jewish prophecy that the temple will descend from the heavens as a manifestation of light. Hayutman hopes to finance the project with some of the proceeds from a $20 million patent-infringement suit he and his partners have filed against Palm.
The rest of that money would be poured into Hayutman's second idea for jump-starting the end-times: a virtual temple within a massively multiplayer online role-playing game.
From my point of view, I don't see why he needs the blimp or the cube. If the lasers are bright enough that they need to be water-cooled, their beam intersections should be visible in normal atmospheric. As far as the game goes, I don't see why they can't just use the open-source Quake or Quake II engines and the free level- and object-building tools that are already out there.
What's fascinating about his vision of the apocalypse is that it's not the bloodbath that fundamentalist Christians imagine. It is the end of the current world – with all its inequity and injustice – and the beginning of a new, perfect Earth ruled by the Messiah. The trigger will be a peaceful, technology-fueled spiritual revolution. A velvet apocalypse. Sounds little bit like George Lucas's Star Wars, perhaps the future is not so distance.