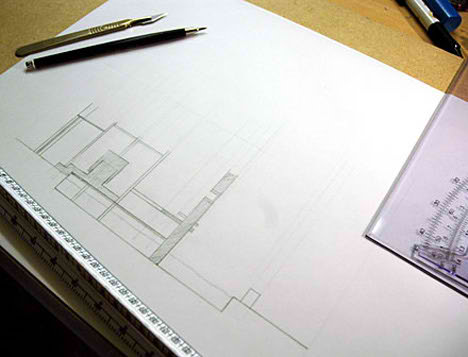 image source: Notebook © 2005 James Wheare
Blog reader James dropped a comment on the previous post "Architects are lower down the pecking order now!", I thought it was really interesting and straight to the point, here goes:
I'm not an architect/architecture student. I'm a cad monkey. I did not chose architecture but I chose building design because the course was only two years, vs 5-6 and a 5 digit HECS debt.

It wasn't just that, though.

I called lots of architects and building designers and the continuous complaint I heard from both is "grad architects are useless, they don't know anything about construction or costing." Also, there was the fact that building designers (evil, soulless creatures that we are) get 85% of the design work out there – and the grad architects I spoke to were only making 35-40K a year. Looking at Job ads, I realized that a building designer with 5 years experience earns around the same as an architect with 5 yrs experience (85-100K)-and the building designer has no HECS debt.

From my contact with the building industry so far (very minimal) it seems that architects have gotten a bad rep for often being impractical with actual building and structural specifics.

Construction is at the heart of building design and architecture. Whichever is better, if you don't know construction and are depending on others to provide it you're wages will reflect this. It's that sentence, "As per engineers specifications" – everytime you write that, what you're saying is, "I'm not capable of working this out, I'm referring it to someone who can -" and that engineer will be better paid than you because his skills are more necessary. A long time ago architects did all this technical planning themselves. The only modern equivalent is Santiago Calatrava. He says, "As per MY specifications."

The more divorced architects become from the origin of their profession the less necessary they will be to it, and they'll be paid less.
That is the answer, specification. Either you take the project or forget about it, architects are replaceable, what makes your design unique and thick?