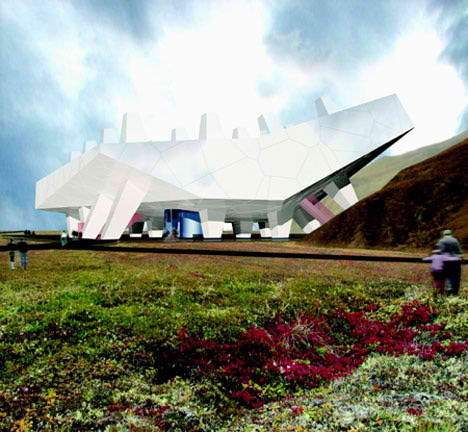 image source : Lesser Architecture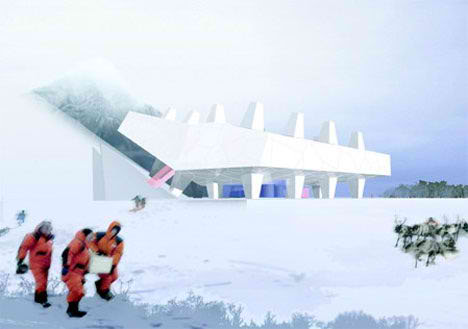 image source : Lesser Architecture
A mammoth was discovered by a reindeer herder in May this year, it was believed that the mammoth died 18,000 years ago. The frozen mammoth trunk and eyes are still intact and some of its fur remains on the body. For your information, mammoths are an extinct member of the elephant family. Visit the official website for more information on the Yukagir Mammoth.
With such an astonishing discovery, why not profit from it? and there are no better way than to built a research center and a museum. Leeser Architecture of New York have won a competition to design the World Mammoth and Permafrost Museum in Yakutsk, Siberia.
According to source, the building will be insulated and fitted with a host of technologies to reduce its impact on the extreme yet fragile environment, the museum is elevated on structural supports 20 feet above the ground with minimal surface area contact, possible to minimize any heat transfer from the building to the ground.
Inverted legs on the roof act as light collectors, capturing sunlight form the south and west. Light monitors, positioned to disrupt wind patterning and minimize snow drifting on the roof, regulate shades to prevent heat loss. Energy use in the building is reduced by the efficient daylight capture as well as the use of high-efficiency artificial lighting, efficient chillers and boilers, air heat recovery, displacement ventilation, and the well-insulated envelope. Wind turbines and solar photo-voltaic cells produce electricity which is stored on site, reducing the building's dependency on the grid. – treehunger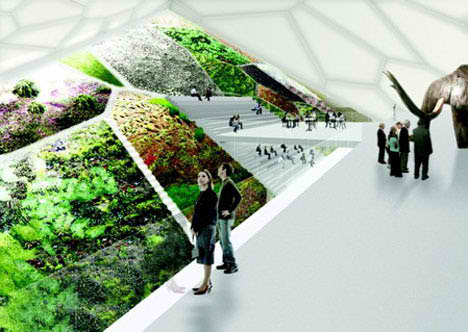 image source : Lesser Architecture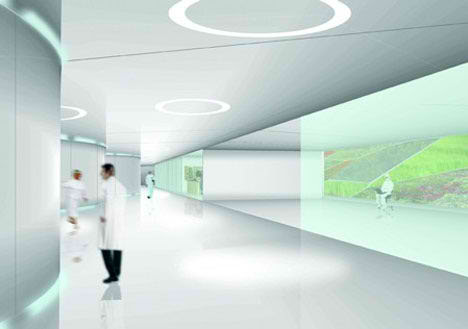 image source : Lesser Architecture