Am not a fan of sustainable living, to be honest, I don't believe in the green architecture. Don't get me wrong, sustainable architecture is a good idea, the trouble is buildings are a minute part of the entire 'Global Warming' threat. By cladding buildings with solar panels is not a 'sustainable solution', it takes a huge amount of energy to fabricate, transport, and installs them, and these solar panels have a life span of 25 – 40 years.
In their book "Time to Eat the Dog: The Real Guide to Sustainable Living", New Zealand-based architects Robert and Brenda Vale say keeping a medium-sized dog has the same ecological impact as driving 10,000 km (6,213 miles) a year in a 4.6 liter Land Cruiser. Calculating that the modern Fido chows through about 164 kg of meat and 95 kg of cereals a year, the Vales estimated the ecological footprint of cats and dogs, based on the amount of land needed to grow common brands of pet food. Source: Reuters/Yahoo News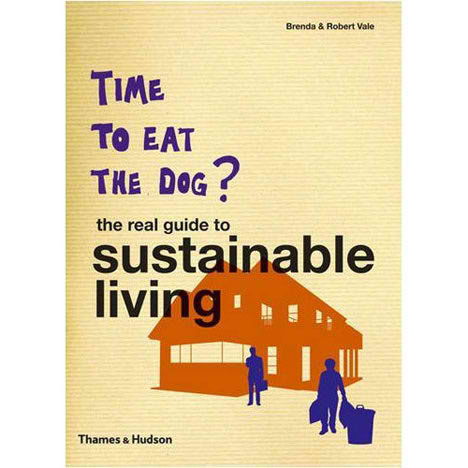 Great news, New Zealand-based architects Robert and Brenda Vale found the answer to sustainable living – by eating our pet.
By 2050, the world will host nine billion people, most of them from developing countries. How about eating human babies instead? Joking.
I like the idea of eating your own pet. I'll start from my dog's tail and make my way to the stomach; you guys can have the head.

The book's playful title, and serious suggestion that pet animals may be usefully "recycled", by being eaten by their owners or turned into petfood when they die, may not appeal to animal fans.
The answer to global warming and sustainability is none other than nuclear energy. The source of carbon dioxide emissions comes from burning coal, gas, and oil in exchange for energy. Therefore an electric car is NOT the solution; we're simply shifting the source of carbon dioxide emissions from the car to the power plant. Electric car is the same thing with a better packaging.
Do you watch Top Gear? Jeremy Clarkson and his eco friendly car Range Rover, now that is what I call sustainable living!
"You thought green peace would save the world? But no, its Top Gear! We've done it!"
My lecturer once said, why should we conserve energy or save water? There are plenty of energy from the sun and nuclear, they are as good as infinite. What's the point of saving or conserving water? Not even a single drop of water is leaving the planet, if water is not enough for the 6 billion people (9 billion in 2050), there is this ancient technology known as desalination. (How else did you think Christopher Columbus and the Spanish Conquistadors traveled to the new world with so little water?)
According to Wikipedia – A typical aircraft carrier in the U.S. military uses nuclear power to desalinate 400,000 gallons (US Gal.) or 1514 m³ of water per day. "World-wide, 13,080 desalination plants produce more than 12 billion gallons of water a day, according to the International Desalination Association."