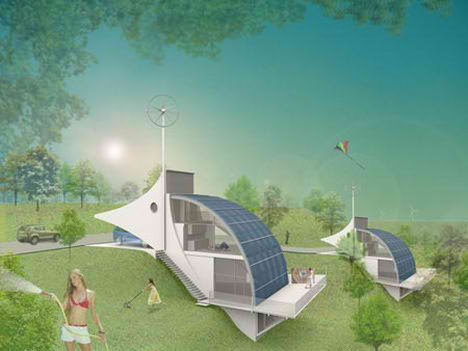 If the developers behind H2PIA have their way, a hydrogen future may not be as far off as some predict. Its a super-sustainable hydrogen-powered Danish dream city where the houses draw electricity from the sun and wind.
Here's how it works: "The renewable energy comes from solar or wind power and is used to split H2O – ordinary water – into H2 and O2 – hydrogen and oxygen. The oxygen is vented into the atmosphere, which already contains about 20 percent O2. The hydrogen is used in fuel cells that can produce energy, for instance in the form of electricity and heat. In the fuel cell, the energy is created by silent electrochemical processes with no pollution. The only product left over when the hydrogen is used up, is pure water. During periods with low energy demand, we can store the hydrogen. Then, when the wind is not blowing and the sun is not shining, we use the stored hydrogen."
Nice idea but we human should have, could have built it long time ago. Its time we take care of our aging mother earth. The third rock from the sun, its not just a planet, its home.