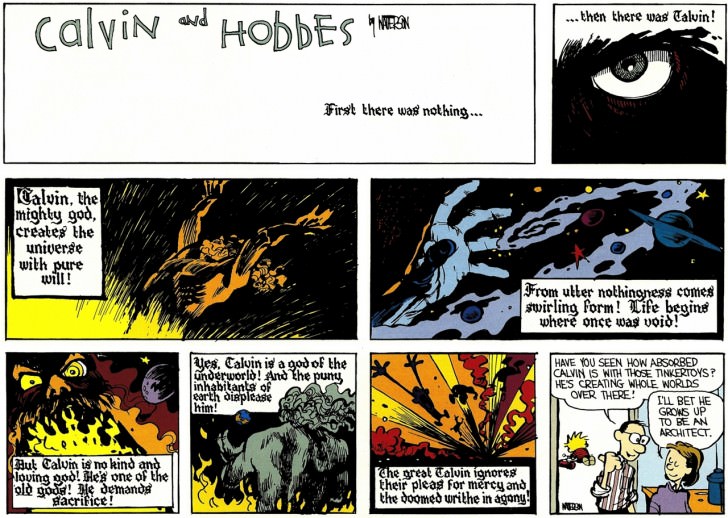 Image Source and Copyright : Andrews McMeel Publishing
Hello, I have been reading your blog for quite sometime now, and your recent entry- Architecture – A Glimpse Into My Past, described about some similarity in both of our situation. It is exactly what I have to face at this moment, kept crying wishing my mother understands me, but she would not; it's a miracle if she will.
Anyway, after SPM (secondary school) my mother (my parents are both architects) asked me, what I want to do after school, and I told her I wanted to be an artist (art is my passion since I was a kid), I wanted to take up Art and Design, she said, Artists has no future, art is talent, and one need not spent years studying art, architecture on the other hand promise you a bright future. Well, architecture is part of art anyway; therefore I spend 4 years in Mara University, Malaysia.
Having obtained my part 2, I worked for my parents (obviously, that's what they wanted all along). During that period, I told both my parents, Architecture is boring, I wanted to do graphic design all along, and again they told me off by justifying that by studying architecture, I can venture in to graphic design.
As a result of that argument, I've decided to avoid them by studying in Adelaide University, Australia. I am still pursuing architecture, (what choice do I have when they are the one paying for my school fees?). I'm going for 2008 intake, and I've decided to stay in Australia for good.
Yesterday night, I told my mother I don't enjoy doing all these technical drawings, the colorful lines overlapping each other is so boring, such a headache. The conversation turns out ugly and it really pissed my mother off, she's really mad with me, what hurts me the most is the heated conversation between us, she said if I hate doing all the technical drawings then why in the world did I take up architecture in the first place? What? Is it entirely my fault? What's up with my parents anyway? This is what they wanted, and when things turned out badly, they decided to turn the table. WEIRD!
Well, I understand what most parents want for their children, bright future and all, please understand what most children wants in the first place, forcing is not a good answer.
Sharing my opinion with my friends doesn't smooth things up, they insist that I'm lucky to have parents as architects.
Calvin says:
Well, sometimes architecture can be fun, e.g. reading my blog. :) I can't say for sure all parents think alike in that manner, probably it is the Asian mentality, get a good education and you are rich, either a doctor, architect, engineer, accountant or lawyer. Always the professional courses.
Education is never about knowledge, it is always about money money and money, which pretty much explain why Asians countries lack behind in the world of science and technology (Japan is an Innovative nation, not creative, most scientific break through and discovery are by the westerners, but they are catching up pretty fast). The Asian education system is horrible, it is all about memorizing, thinking aloud is illegal – reason? rude, disrespectful…. screw the Asian culture.
Participate in my latest poll – "To be or not to be!"
Assume that you are given this golden opportunity to start everything from scratch, for example, right after high school, would you take up architecture or some other course? If it is not architecture, what is secondary preference?
My answer to that question is – I'll end up as a web designer, probably web programmer, then again graphic design sounds fun. No point regretting right? When the going gets tough, the tough gets going.
"I don't know the key to success, but the key to failure is trying to please everybody." -Bill Cosby