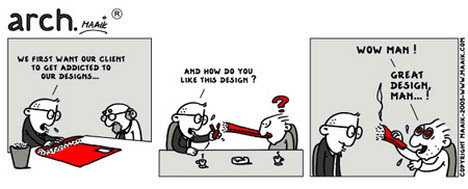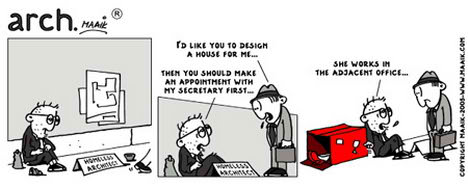 This comic is about the life of an architect and the things that cross his path. The goal of the strip is to promote architecture and make it more accessible to the broad public. Archibald, the architect, livens up the discussion on this subject while making the people more conscious of their material environment.
The URL for the web is at maaik.com and I believe he update it everyday. It would be nice if there are more talented architects like him joining the comic industry while at the same time promoting architecture to the mass.
Born and raised in Antwerp, Maaik studied architecture at the school of architecture in Antwerp, a study where drawing is an elementary subject.

Drawing plans, sketching, the art of shading, perspective and the study of form and color, all these aspects of drawing were necessary subjects in the study of architecture. To visualize his ideas, he used his own figures to determine human proportions. These figures began to evolve in comic figures. A cartoonist was born. Added dialogues were enough to create the humorous world of Maaik.

In 1997 maaik graduated from college as an architect. 6 months later, while working at an architectural office, he started publishing cartoons for a local Antwerp newspaper. At that time Maaik was determined to one day become a full-time cartoonist. Today, his dream has come true.