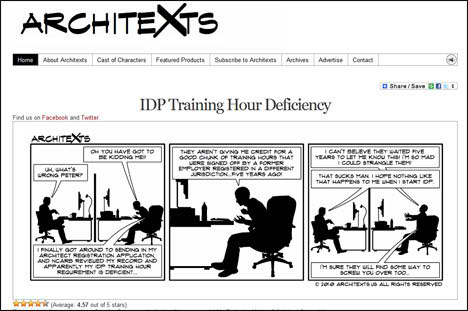 There you go, Architexts for archi-fanatics.
Architexts is an almost daily web-based comic created for the amusement of architectural professionals, though we think even those not in the profession might also find our work humorous.
Architexts tells the story of a fictitious mid-sized architectural firm called Franklin + Newbury Architects, Inc. Their experiences are mostly based on real life experiences of architectural professionals. Franklin + Newbury Architects, Inc. is a fairly typical firm. The projects aren't all that exciting: tenant fit-outs, small commercial renovations, feasibility studies… not much new construction. The lack of exciting design work makes the young production staff jaded and cynical.