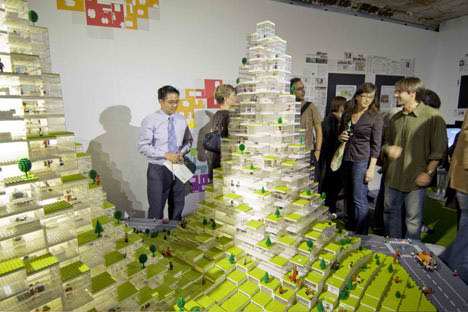 Image Source: LFA
On occasion of the London Festival of Architecture 2008 (www.lfa2008.org), Storefront will be opening its first temporary outpost in Europe on Exhibition Road, London. The opening party will be held on June 20 and the exhibition will remain open until July 27.
Reminds me of an article in Time Magazine where a 7 year old little girl was ashamed of his father's career, because she strongly believes her dad is the only adult that is obsessed with toys. Her father is a film director (stop motion animator).
The BIG CPH Experiment, an exhibition that inaugurated at Storefront for Art and Architecture in New York in October 2007, presents a series of recent design projects and large-scale models by the Copenhagen-based architecture practice BIG/Bjarke Ingels Group. The centerpiece of the exhibition is a model of the LEGO Towers made out of 250,000 LEGO bricks. BIG's architecture emerges out of a careful analysis of how contemporary life constantly evolves and changes. In their projects, BIG tests the effects of size and the balance of programmatic mixtures on the triple bottom line of the social, economical and ecological outcome. Like a form of programmatic alchemy, they create architecture by mixing conventional ingredients such as living, leisure, working, and shopping.