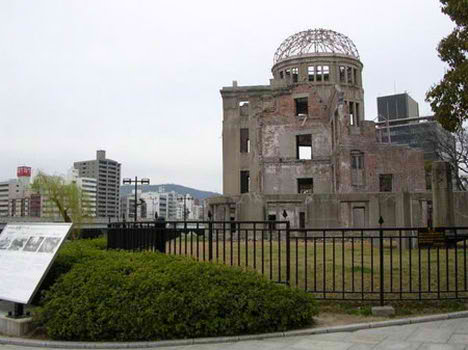 Yesterday 6th August was the 61st annivesary of the world's first atomic bombing at Hiroshima Peace Memorial Park. At 8:15 am on August 6, 1945, United States of America dropped an atomic bomb into the heart of Hiroshima, with a blink of an eye 70,000 people died instantly and follow by another 70,000 by year end. More lives would have lost if the United States decided not to do so, due to the fact that the American army would have to fight an urban warfare not only with the Japanese army but also the Japanese civilian.
The Genbaku Dome in Hiroshima's Peace Park marks the World's first use of nuclear bomb as a weapon, it is not an iconic structure used by anti-nuclear protestor. The dome, is that of Industrial Promotion Hall of the Hiroshima Prefecture. Design by Czech architect Jan Letzed in 1915, it was a symbol of modern Japan with western design, today its a symbol of peace – a permanent reminder of the terrible war that engulf so many innocent people.
The 6 August 1945 nuclear explosion was almost directly above the building (the hypocenter was 150 meters / 490 feet away), and it was the closest structure to withstand the explosion. The building has been preserved in the same state as immediately after the bombing, and now serves as the reminder of nuclear devastation and as a symbol of hope for world peace and elimination of all nuclear weapons.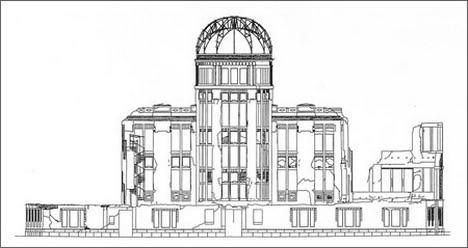 The three storey 1915 exhibition hall had been solidly built in ferro-concrete and brick. It was incinerated and its dome exploded, but surprisingly the steel frame survived. Today it is known as Hiroshima's Atomic Bomb Dome.
When the rebuilding of Hiroshima took place, the dome – as one of the many surviving structures in the nuclear attack went through local debate. Some saw it as a shame of defeat, while others sees it as a reminder for future generation especially the Japanese not to take part in any military expansion. By 1966 the dome was on the verge of collapse, and the city of Hiroshima passes a resolution to save the dome and preserve it as a national monumemt.
More Information and Source:
Hiroshima Peace Memorial
Sketches of Genbaku Dome
Timelineof Hiroshima Atomic Dome