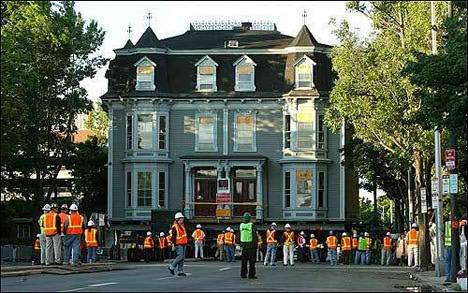 Image Source: Fogonazos
Peter Green House, at Brown University, America, was moved last summer approximately 450 feet away from the existing location, moving an architecture is not a new far-fetching concept, it has been around for a while. My lecturer did mention in class on the concept of movable houses in New Zealand, he told us that in New Zealand, some houses are sold in a Wal-Mart style – walk into this huge open field and pick your ready made house.
Anyway, I did touched on this topic Moving Architecture in my previous post, the idea on moving an architecture as a strategy is to save it from demolition.
Moving your own house: USD 10,000
Moving your own house by yourself : USD 1,000
Moving your own house by yourself and having the wheel of the trailer come lose, hitting a bridge and found your house stranded in the middle of the 101 Freeway in Los Angeles, California! : Priceless.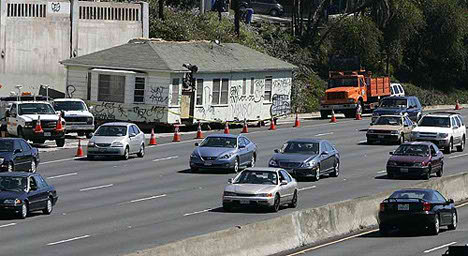 Photo: Brian Vander Brug / LAT
That was just the latest bad news for Patrick Richardson, who was trying to save money by moving the house himself from Santa Monica to the Santa Clarita Valley.

Richardson, 45, of Castaic, obtained a permit from Caltrans to transport the oversize load on the freeway. Instead of taking the shortest route — up the 405 Freeway and over the Sepulveda Pass — he took a longer and more level route through downtown L.A. and north on the 101 Freeway.

By the time the 20-foot-wide structure reached the downtown area, wheels were reportedly coming loose from the trailer hauling the house. Richardson made emergency repairs and lumbered onward, only to come to a halt again in Hollywood. – Quote: LA Times
These houses are light enough to be moved, no wonder they get smashed to smithereens in hurricanes and earthquakes. Time to learn from the Japanese on how to built quake proof buildings.