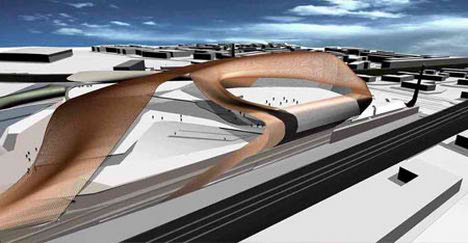 This must be one of the most conceptual mosque ever, unlike other traditional buildings especially house of god, holy buildings do not evolve in term of architecture, it remain almost the same thru out the ages, and even if there are any changes, it would normally be too small to be notice.
The proposed mosque in London is the work of Mangera Yvars Architects, it's something different from the norm and yet acceptable by the Islamic society in London, maybe it's because of the pressure given by the British government not to have a mosque that is so obvious over the skyline of London, after all religion is a sensitive issue, and I believe that the Arabs would do the same by preventing the Christian erecting a church beside the holy site in Mecca. Click here for the history of mosque architecture
The project is for an International Islamic Centre with a Mosque, School, Exhibition spaces and an Islamic Garden with a built area of 180,000m2. The site is 1km in length and sits on the banks of the Channelsea River and in proximity of the London 2012 Olympic sites. The form of the Mosque is determined by the axis of prayer towards Mecca and the contours of our new Islamic Garden. The Islamic Garden is a serene space for contemplation transposed onto multi-ethnic modern-day London. The project can be seen Islamic Calligraphy on an urban scale. The project adopts the idea of 'Dawat' or Invitation to Islam. Dawat space is an interstitial public space between the sanctum of the Mosque and the World outside. It is a place for Muslims and Non Muslims can meet and promote a greater understanding between ideology, faith and humanity. The scheme considers fluctuations in visitors and usage. Spaces can be extended in peak periods by inflatable structures which temporarily cover courtyards. The building, adopts the language of nomadic structures or tented cities.