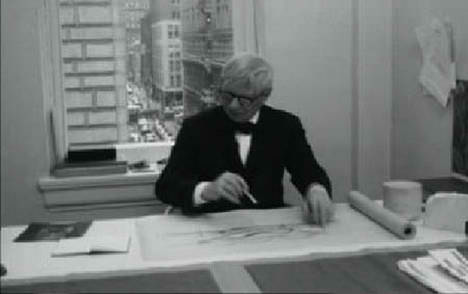 My Architect is a great film about Nathaniel Kahn's search for himself via the legacy of his famous Architect father, Louis Kahn, dead since 1974. The film builds slowly, but perfectly, and what starts out as a seemingly lost fortysomething's identity crisis unfolds into a beautiful tale with much deeper meaning with regard to the importance of love, loss, family and perhaps more importantly, our life's work.
This must be one interesting documentary, this is real reality, even for a documentary. And the questions, about family and commitment, are sharp because of L. Kahn's shady personal life. My Architect has been nominated for an Acadmy Award, for whatever that's worth.
He managed to father a child with three different women, and be at least part of their lives, secretly, until his death in 1974. Nathanial was conceived when his father was just over 60, and was the legend's only son. One scene unites the three siblings for a conversation about the funeral, at which the two unmarried mothers were almost banished from the service by Kahn's wife.
A hugely informative and moving blend of emotional journey and biographical study, as director Kahn goes in search of the father he never knew, Louis Kahn. Sometimes it's all a little indulgent, as Kahn bullies old colleagues and ex-lovers for information. Moreover, one wonders whether this father – who spawned children everywhere he went, and left them with nothing but abandonment issues – really deserves such masochistic posthumous devotion. But Kahn's interviewees are fascinating, and between them construct a wonderfully fragmented and ambiguous portrait of his elusive quarry. – The Herald (02 Sept)