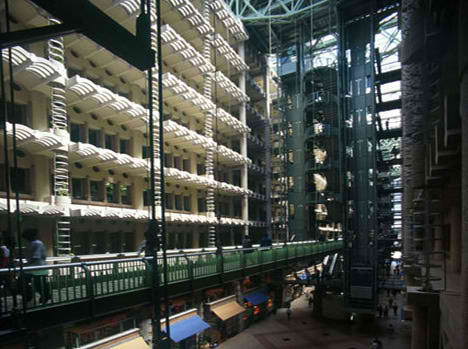 Image Source: Inhabitat
The Eastgate Centre in Harare, Zimbabwe has no conventional air-conditioning or heating, yet stays regulated year round with dramatically less energy consumption, the building uses less than 10% of the energy of a conventional office tower in similar size, thus saving the management $3.5 million a year on air-conditioning.
Designed by architect Mick Pearce in conjunction with engineers at Arup Associates using design methods inspired by indigenous Zimbabwean masonry and the self-cooling mounds of African termites, inorder to achieve this, fresh air is continuously drawn from the open space by fans on the first floor, it is pushed into the core of the building through vertical ducts, thus the fresh air replaces stale air that rises and exits through exhaust ports in the ceilings of each floor.
Termites in Zimbabwe build gigantic mounds inside of which they farm a fungus that is their primary food source. The fungus must be kept at exactly 87 degrees F, while the temperatures outside range from 35 degrees F at night to 104 degrees F during the day. The termites achieve this remarkable feat by constantly opening and closing a series of heating and cooling vents throughout the mound over the course of the day. With a system of carefully adjusted convection currents, air is vacuumed in at the lower part of the mound, down into enclosures with muddy walls, and up through a channel to the peak of the termite mound. The industrious termites constantly dig new vents and plug up old ones in order to regulate the temperature. Source: Inhabitat
Eastgate is emulated by London's Portcullis House (2001), opposite the Palace of Westminster. The distinctive giant chimneys on which the system relies are clearly visible.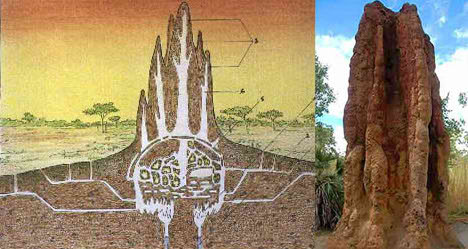 Image Source: www.tdrinc.com