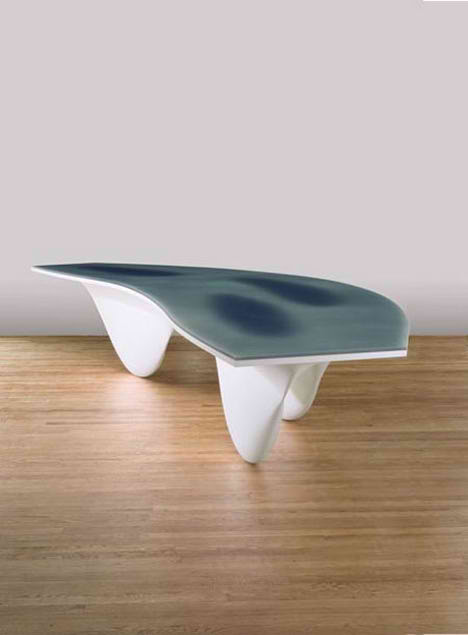 The first woman to have won the prestigious Pritzker Architecture Price in 2004, the Iraqi-born British citizen, Zaha Hadid continues to amaze the public with the depth, creativity and versatility in her works. As inventive as she is provocative, she has been successful in creating a new vocabulary in both her architectural projects and her design pieces. This year at the Milan furniture fair, her Aqua Table, which was presented as part of the premier collection by Established & Sons, the highly acclaimed new British design and manufacturing company, was one of the highlights of the show.
Commenting on the table she has said: "It's like flying over water." The Aqua Table's flowing shape is evocative of a liquid form frozen in time. It gives the impression of a pool of water flying in the air. This is achieved through the skillful use of the translucent silicon gel in the tabletop. This material not only has an exceedingly smooth surface but also, due to the water like quality, the viewer is drawn to explore what is beneath the surface of the silicone. They see the contours formed in the table's top, which appear as deeper pools of color, creating a beautiful visual effect. Zaha Hadid succeeds in creating a dynamic interaction between the user, the piece and the environment.
Two prototypes of the "Aqua Table" have been produced: P1 with a high gloss white finish and P2, the present lot, in a matte white finish. Subsequently, the Aqua Table has been produced in an edition of twelve. The edition versions differ from the prototypes in that they are smaller in scale, somewhat less detailed in their design and are not hand sculpted and layered.