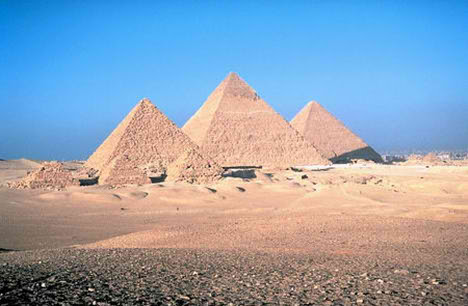 Past theories have suggested that builders on Egypt's Giza Plateau build the pyramid's using an external ramp, some say the ancient Egyptian has seek help from aliens using UFO to move those big blocks of stones. French architect Jean-Pierre Houdin has a new theory.
What if the pyramid had been built from the inside out?
Twentieth year of the reign. The pyramid seen from another angle. The main construction is finished, the pyramidion is in place on the summit. Finishing work is about to start from the summit down.
According to French architect Jean-Pierre Houdin, the 4,500-year-old tomb of Pharaoh Khufu was built using a ramp that spirals around the pyramid's interior 30 to 45 feet (nine to 14 metres) behind the exterior surface.
Building the Pyramid on an even level terrain
What the ancient Egyptians did was dig a trench between the two stakes and then fill it with water. The water would "seek its own level" and they would measure up from the water level.
Watch the 3D Video for a better understanding of the new theory. More information at DailyIndia.