Future by Design Trailer, William Gazecki Director
Future by Design shares the life and far-reaching vision of Jacque Fresco, considered by many to be a modern day Da Vinci. Peer to Einstein and Buckminster Fuller, Jacque is a self-taught futurist who describes himself most often as a "generalist" or multi-disciplinarian — a student of many inter-related fields. He is a prolific inventor, having spent his entire life (he is now 90 years old) conceiving of and devising inventions on various scales which entail the use of innovative technology. As a futurist, Jacque is not only a conceptualist and a theoretician, but he is also an engineer and a designer.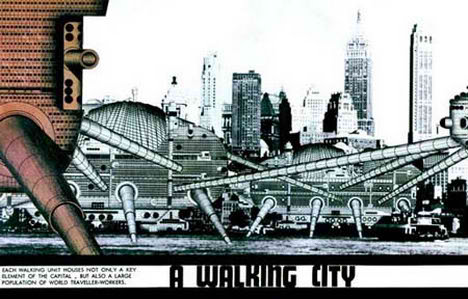 Moving cities proved to be ahead of their time. The Archigram city was to help workers be closer to their offices in the morning. How dull. But now I telecommute every day. Perhaps that's duller. I'd certainly prefer a house with legs to my study-room. – Archigram
The funny thing is, he forgets about the trees, animals and most of all outer space, which reminds me of the Walking City. Talk about space, China is building up their space program and this would likely gave birth to another space race, competition produce results and it might be possible in the next 100 years space architecture is the in thing. I can't wait for China to land on the moon, which is unlikely but then again why not? Hopefully with the landing they are able to solve the conspiracy on The Great Moon Hoax.
George Bush said that the American must land on the moon again before the Chinese land on it, no reason given but why? Why must they land again before the Chinese?