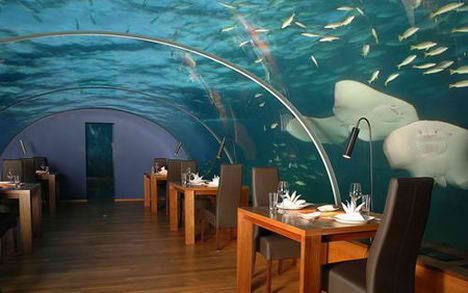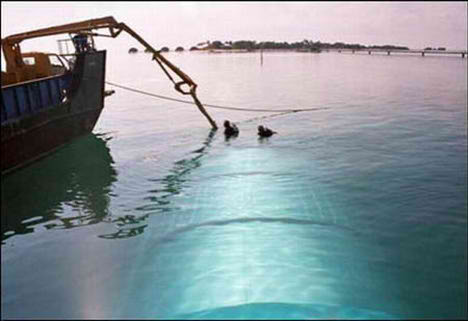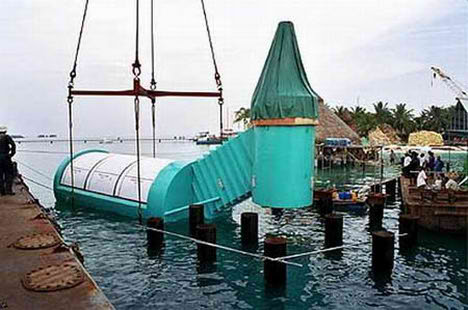 Experience a whole new dining experience in the world's first ever undersea restaurant, brought to you by Hilton Maldives Resort & Spa, this undersea restaurant is known as Ithaa, which translate as "pearl" in the natives' language in Maldives, Dhivehi.
This undersea restaurant cost less than $5 million and is part of a project to rebuilt the Rangalifinolhu Island into a tourist attraction. The restaurant sits 5 meters below the sea and is surrounded by vibrant coral reef offering a 270 degrees of panoramic underwater views. Considering the fact that global warming would eventually raise the sea level and increase the CO2 in the sea water, this restaurant would be the only restaurant in Maldives due to the fact that the entire country would be underwater, and the coral reef would die as CO2 increases in the sea water.
So much for the Hydropolis Underwater Restaurant that Dubai wanted to built, rumors has it that the project is abandon possibly due to financial problem. With the country's GDP at 16%, Dubai's economy is over speculated with artificial boom and progress, it is the basic principle of the universe that every reaction will create an un-opposing reaction, it is the equation and it is a matter of time before the entire country collapse under the heap of ruins.