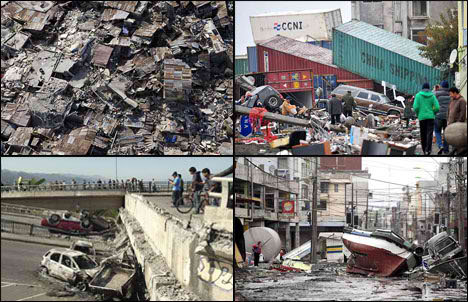 image source and copyright: © 2010 The Seattle Times Company
Yesterday, a 6.0-magnitude earthquake hits E. Philippines. The week before, Chile was rocked by a 8.8 magnitude earthquake with 115 aftershocks, Chile was ready for quake, Haiti wasn't. A 6.6 magnitude quake hit Haiti with 30+ strong aftershocks. Maybe the Mayans was right about 2012, or they ran out of stone to carve the dates on.
Back to this whole rebuilding Haiti and Chile thing, I have this weird feeling "Rebuilding XXX" will be one of the hottest topic of the year for thesis alongside sustainable design.
More: Rebuilding Haiti and Architecture for Humanity
p.s. Remember to donate – Support Disaster Relief in Chile