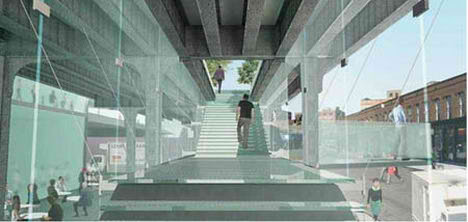 I like the idea of how they 'recycle' the space into something useful instead of demolishing it and sold it off as scrap metals and so on. This reminds me of the demolition of an 100 years old hindu temple in my country – Malaysia. Countries all over the world are preserving their heritage building, but here in Malaysia the local authorities are doing the opposite.
Ironically, Malaysia's slogan for the tourism industry is 'truly asia'. Back to the High Line project.
I like the idea of how the architect fuse the old with the new, by using glass as a transaction from 1930-2006. Due to the properties of glass, the movement of human are distorted a little bit (motion blur), creating an idea of transaction.
Sorry, for guys only, unless she is wearing jeans or long pants.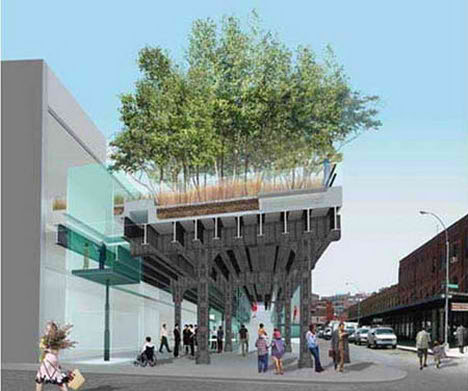 The High Line preliminary designs were created by the design team of Field Operations and Diller Scofidio + Renfro under the direction of Friends of the High Line (FHL) and the City of New York, with community guidance solicited during multiple public input forums. The design team was selected by the City and FHL in fall 2004 following a six-month-long selection process. The preliminary designs are work-in-progress and will continue to evolve as the project moves toward construction.

The High Line elevated rail structure was built in the 1930s as part of the West Side Improvement Project, one of New York City's largest investments in transportation infrastructure. No trains have run on the structure since 1980.

In 1999, neighborhood residents founded Friends of the High Line with the mission of converting the structure to an elevated public space – a greenway or promenade.