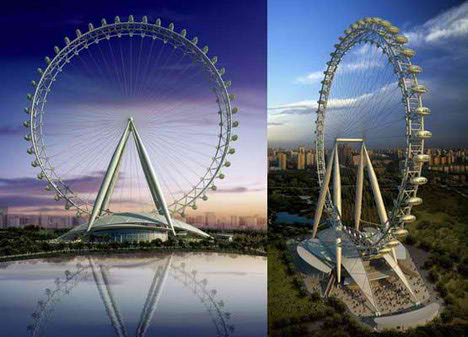 Remember my previous post – Eye of the world and the Pakistan Eye? The Chinese government began construction on the Great Wheel of China (220meters, 680 feet), believed to be the world's tallest ferris wheel provided that Dubai (Dubai Eye at 200meters, 600 feet) doesn't go back to the drawing board.
Originally $99 million Beijing Great Wheel was to complete construction in time for next summer's Beijing Olympics, apparently there was so much bickering over the design of the gigantic wheel, it was delayed for quite sometime. A completion date has not been announced. Fear not, given China's ability on cutting corners, I have faith in them that the construction would be completed in no time.
Some sarcastic comments found online:
I think it's brilliant. What better way to observe all of Beijing's air pollution? You can even have your kids count out the various layers of pollutants on your way up. Fun for the whole family! – SH3NANIGUNZ
Great now China reinvents the wheel. – AZTECK
It appears that building a ferris wheel is a must in every major city in the world, Perth? Unlikely but why not? Pretty much like parks, subways, and a telecommunication + lookout tower. I bet the next proposal would be in South America.
More Information and Source : MSNBC