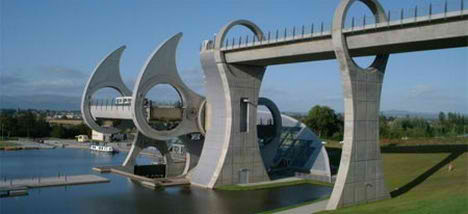 The The Falkirk Wheel is a giant rotating boat lift and elevated canal developed by British Waterways to reconnect the Union Canal with the Forth & Clyde Canal, re-establishing east to west coast access for boats.
Linking two canals with water levels 115ft apart, The Falkirk Wheel is the innovative and dynamic solution to an age old problem of transferring boats between levels that traditionally required a flight of 11 locks. British Waterways were keen to present a more visionary solution and the perfectly balanced Falkirk Wheel was the eventual outcome of British Waterways working together with a design team that combined the international experience of joint-venture contractor Morrison-Bachy-Soletanche with leading specialists from Ove Arup Consultants, Butterley Engineering and Scotland-based RMJM architects.
The revolutionary design of The Falkirk Wheel exploits the simplicity of physics, employing a minimum of energy to turn a phenomenal mass of water and steel with awe-inspiring grace and elegance. Capable of lifting 600 tonnes of water over 35 metres in less than four minutes, The Falkirk Wheel is powered by ten hydraulic motors that turn the two caissons, each of which may accommodate up to four 20 metre long boats at any one time. Despite the scale of this power, each turn of The Wheel uses virtually no water and the same energy as just two boiling kettles.