Image Source: Wikipedia
This semester's design class is about social housing, before we jump into the design stage, we need to understand what is social housing? I bet 9 out of 10 people would have projected an image of a stripped-down subsidized housing.
House, be it for the poor or rich must bestow on its inhabitants a sense of dignity, a sense of belonging, having said that, social housing should fits comfortably into the community, allowing it to assimilate into the surrounding community.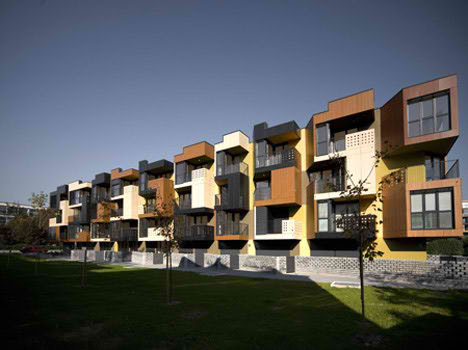 Image Source: Ofis
Slovenian architects Ofis have completed Tetris Apartments, a social housing development in Ljubljana.A little bit of text from the architects:"The building stands on the edge of the 650 apartments development which was finished year ago.
The challenge is, can small be beautiful?
I'm looking into the concept of 'making small things big', this would generally requires a fluid space and good lighting that can make even a small dwelling seem free and open, rather than confined and oppressive, energy efficiency is also important and last but not least, creative use of bricks. Why bricks?
Currently I'm looking into Glenn Murcutt's work for its energy efficiency and quality of space.
Dana Cuff suggests that social housing is all about simplicity within complexity. I've been googling and searching for books on creative social housing and the outcome is somewhat disappointed, is affordable housing significant architecture?