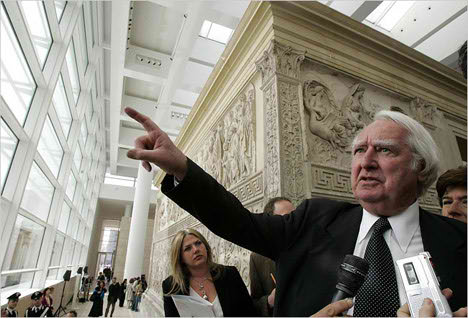 This weeks presentation is on Richard Meier and his Islip Justice Courthouse, there is a short article on Richard Meier in Wikipedia, it appears that Meier also consulted on the design of several buildings that appear in the 2003 city building computer game SimCity 4, making him perhaps the first professional architect ever commissioned to participate in building design for a computer game.
According to an architecture student, "I went to his web site and it seemed like I was looking at a wedding cake catalogue. What's up with all the – white?"
Yes, white, apparently Richard Meier has this obsession on the colour white, most of his buildings comes with white aluminum panels.
Pritzker Acceptance Speech by Meier:
I would like to share with you, tonight, the ongoing conversation that I have with my children, Joseph and Ana. It revolves around the question "What is your favorite color?" Joseph, who is four and three-quarters, always replies green, and states when asked why, that "green is the color of grass, the trees are green, green is all around us, it's the color of spring and dollar bills."
Ana, who is three and doesn't like to be outdone by Joseph, replies that her favorite color is blue, and that, "the sky is blue, the pools and ponds and lakes are blue."
And then they turn to me and ask, "Daddy, what is your favorite color?" And every time we play this gave, my response is the same: "White is my favorite color."
"But Daddy," Joseph says, "You can't have white. White is not a color; white isn't in the rainbow; you have to take a color that is in the rainbow, like red or green, or blue or yellow."
And I have to explain that for me, white is the most wonderful color because within it you can see all the colors of the rainbow. For me, in fact, it is the color which in natural light, reflects and intensifies the perception of all of the shades of the rainbow, the colors which re constantly changing in nature, for the whiteness of white is never just white; it is almost always transformed by light and that which is changing; the sky, the clouds, the sun and the moon.
White conventionally has alwyas been seen as a symbol of perfection, of purity and clarity. If we ask why this is the case, we realize that where other colors have relativevalues dependent upon their context, white retains its absoluteness. At the same time, it may function as a color itself. It is against a white surface that one best appreciates the play of light and shadow, solids and voids. Goethe said "color is the pain of light." Whiteness is perhaps the memory and the anticipation of color. For me, the contrast becomes the definition — that which is natural, organic, changing, contains at different times, all of the colors of the rainbow. And that which is man-made should help to focus and intensify one's perception of all that is around us.
It appears that he has found a successful formula and he's sticking with it, a eventually it becomes his trademark as an architect, pretty much like Frank Gehry has his dynamic architecture, and Tadao Ando and his minimalist architecture.